About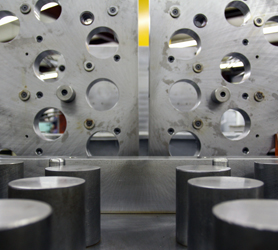 Fu-Tek Machine & Tooling produces injection molds for the molding divisions as well as other direct OEM accounts. Our products are used in both domestic and international markets serving automotive, recreational, medical, plumbing, manufacturing and agriculture industries.
Fu-Tek is now one of several companies that are apart of The Triad Group. The Triad Group of companies reaches across Nebraska and into Colorado and creates products for international customers. The Triad Group produces a variety of proprietary products for the packaging, irrigation and building industries. Merrick Machine continues to produce highly automated, specialized equipment for the construction trades. Denver Plastics - NE, Denver Plastic - CO and Triad Fastener produces custom molded products utilizing niche processes like gas assist, over molding, insert molding, soft touch molding, fabric over molding and value added secondary operations such as decorating and assembly.
Fu-Tek Machine & Tooling is now the primary mold design and creation company for it's sister companies and for several other injection mold companies in the area, with over 50 years of experience backing their quality products.
Get In Touch

Have anymore questions?
Contact us via email or phone, or just fill out our easy to use contact form here.
Work at Fu-Tek

We are currently hiring!
We are looking for Designers and Tool & Die Operators. See our Careers page for more information and a link to apply using our online portal.
History
1961-

Merrick Machine Co., the original company of the Triad group is founded in Alda, NE, and is now just across the street from Fu-Tek Machine & Tooling.
1972-

In 1972, Merrick Machine Cobegan the diversification process into the plastic's business, creating several other operational businesses, with one of them being Fu-Tek Machine & Tooling.
2013-

The Triad Group of companies is featured in Plastics News for investing in $2.1 million in new machingery to boost the capabilites of their companies.
Why Choose Us
We have years of Experience
Our company's history is impeccable with nearly 50 years of sustained growth and success. We rely on the past, as a guide to insure our future is bright. With a renewed sense of commitment to the principles that have produced these results, we are prepared and eager for the challenges of the future.
Customization is our Specialty
Fu-Tek can take your part from concept to production. Available services include part design, stereo lithography prototypes, quick-turn prototype molds, mold flow analysis, tool design, production tooling, and designing and building test equipment.